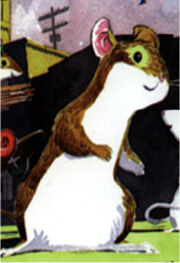 Ragweed is a male golden mouse. He is the star of the first book in the Poppy series, Ragweed. After living his country home, he travels to Amperville which he meets, Clutch , Blinker, and a cat named Sliversides. He was able to defeat her later in the book when he sprays her with a hose and washes her out of the basement. He seems sarcastic and annoying to others, but also adventurous and ready to stand up for himself. He eventually caught Poppy's heart. He dies in the second book, Poppy, when an owl named Mr. Ocax catches and eats him.
Ad blocker interference detected!
Wikia is a free-to-use site that makes money from advertising. We have a modified experience for viewers using ad blockers

Wikia is not accessible if you've made further modifications. Remove the custom ad blocker rule(s) and the page will load as expected.